Information To Bid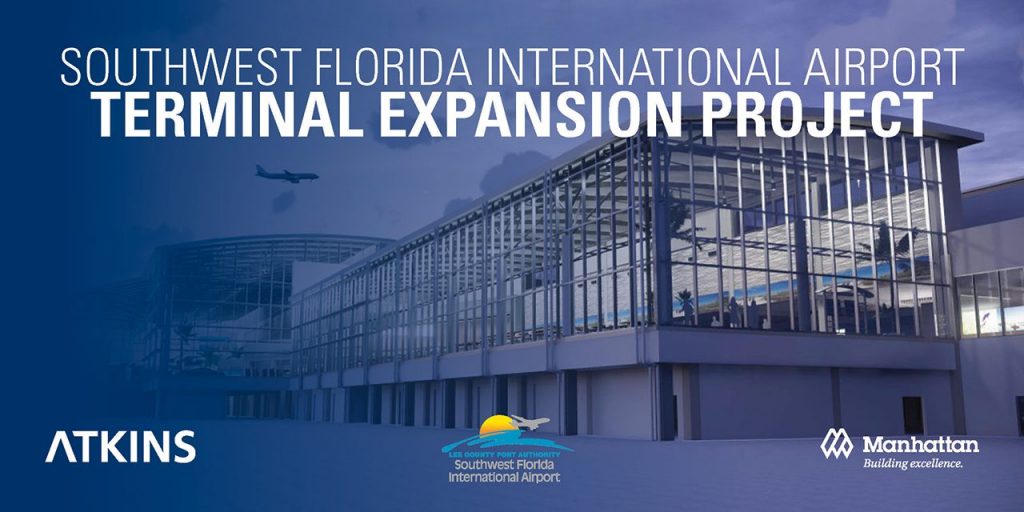 Manhattan Construction welcomes trade partners to bid on the Southwest Florida International Airport Terminal Expansion Project.
PROJECT DETAILS
Bid Due Date: Tuesday, June 15, 2021 until 2:00 p.m. EST
Project Address: 11000 Terminal Access Road, Fort Myers, FL 33913
Project Description: The project consists of a multi-story expansion of the existing terminal's north face along its entire length between the current checkpoint queues of concourses B and D. The expansion of the building's footprint extends northward into Concourse C past the existing ramp and security checkpoint. When completed, the expansion will consolidate the airport's three checkpoints into one and provide for new concession and retail spaces and upgrades to the building's infrastructure and MEP systems. Also included is a remote loading dock and renovations and improvements to TSA administration space and non-public airport administration spaces. The total area of expansion and renovation is more than 300,000 square feet. All work is as shown and specified in bid documents provided by Atkins dated 18 March 2021.
Construction Schedule: Multi-phased Project Starting 10/01/21 with a Completion Date of 10/1/24.
Approximate Construction Cost: $184 Million
PREQUALIFY TO BID
Is your company interested in prequalifying to bid this project?
REQUEST INFORMATION TO PREQUALIFY to bid our projects in Southwest Florida.
ABOUT BIDDING THIS PROJECT
Bid Documents: Bidders can obtain access to Bidding Documents, Drawings, and Specifications through BuildingConnected.com by contacting Lauren Schuster.
Bid Instructions: Sealed Bids will be submitted through BuildingConnected.com. Alternatively, three (3) copies of sealed bids on the bid form provided can either mailed or delivered to
Manhattan Construction at 3705-1 Westview Drive
Naples, Florida 34104
by 2:00 PM EST on Tuesday, June 15, 2021.
Questions Pertaining to Bid: All RFIs must be submitted by May 21, 2021.
All such requests shall go to Jessica Carter.
No oral interpretation of any item in the contract documents by any individual shall be binding.
Americans with Disabilities Act Notice
Any person needing special accommodations for attendance at the Bid or Prebid Meetings should email 24-hours in advance of the time to make the necessary arrangements. Email those requests to Tony Devittorio.
Manhattan Construction, on behalf of The Lee County Port Authority, in accordance with the provisions of Title VI of the Civil Rights Act of 1964 (78 Stat. 252, 42 U.S.C. §§ 2000d to 2000d-4) and the Regulations, hereby notifies all bidders that it will affirmatively insure that any contract entered into pursuant to this advertisement, disadvantaged business enterprises will be afforded full and fair opportunity to submit bids in response to this invitation and will not be discriminated against on the grounds of race, color, or national origin in consideration for an award.
General Civil Rights Clause: The Contractor agrees to comply with pertinent statutes, Executive Orders and such rules as are promulgated to ensure that no person shall, on the grounds of race, creed, color, natural origin, sex, age, or disability be excluded from participating in any activity conducted with or benefiting from Federal assistance.
This provision binds the Contractor and subcontractors from the bid solicitation period through the completion of the contract. This provision is in addition to that required by Title VI of the Civil Rights Act of 1964.
Related Projects