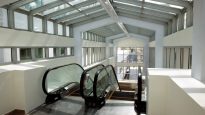 HIMA Elevated Walkway
HIMA Elevated Walkway
Caguas Puerto Rico
The HIMA Elevated Walkway is a pedestrian bridge that connects the 3rd floor of the HIMA Hospital in Caguas, Puerto Rico, to its adjacent medical office building and parking garage. Project Design by Fracinetti Arquitectos, Inc.
This building structure consists of drilled pier foundation, concrete columns and structural steel. It has a curtain wall enclosure and flat roof.
Manhattan provided preconstruction services for the new building and associated site development.