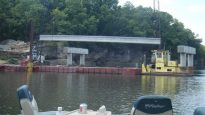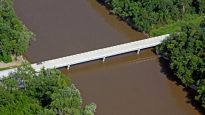 County Road NS 469 the Neosho River
Neosho River Bridge
Ottowa County, Oklahoma
The replacement of the existing Connors Bridge (consisting of multiple timber-decked steel through-trusses) with the County Road NS 469 over the Neosho River, near Fairland, Oklahoma, was accelerated in 2009 as necessitated by heavy flooding in the river basin. A local landmark and popular fishing location, the closure of the bridge was detrimental to rural families and business of the area.
The significant challenges attributed to the project involved construction of the Southern bridge abutment at a natural stone cliff, embankment on the North end of project in wetlands owned and protected by the Grand River Dam Authority, and that the existing bridge demolition and new bridge construction would be directly on the river – floating sectional inland-marine barges.
Access was limited to the river from the North end of the project, requiring the Contractor to construct space-limited loading dock for the sectional barges. Delivery of equipment and major materials (beams) required temporary improvements to widen existing interchanges outside the limits of construction. The Contractor utilized multiple sectional barges for cranes, foundation drill equipment, and materials. The existing bridge trusses were light in weight and could be hoisted and removed by barge, and the existing masonry piers were removed by controlled blasting demolition. Placement of ready-mix concrete involved concrete pump trucks (placed on the North bank and on material barges) acting in tandem. Erection of beams required transfer of the beams from delivery conveyance to the material barge, then pushed into position for hoisting by cranes placed on opposing barges.
Exceptional adverse Fall 2009 wet weather conditions impacted the river's elevation – fluctuating as much as 15' above a normal depth of 20'. Because the river elevation is controlled by the Dam Authority, the Contractor was unable to request changes to dam releases and was challenged to plan its work on those (daily) changing conditions.
Construction commenced in July 2009 and the bridge replacement was completed in November 2009, significantly ahead of the Contractor's schedule despite the challenges created by the river. Completion of the North approach embankment and final roadway surfacing was delayed to the end of project to ensure the bridge construction equipment and barges could be removed in the limitations of space in the wetland area. Final completion of the project occurred in May 2010.