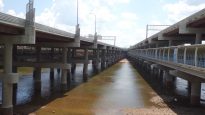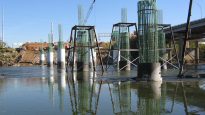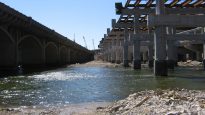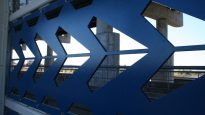 I-244 Multi-Modal Bridge Over the Arkansas River
Tulsa, Oklahoma
The newly completed eastbound I-244 bridge over the Arkansas River is the counterpart to its westbound sister bridge. The eastbound bridge is commonly referred to as the "HPPIY" and the westbound bridge the "TIGR". Both bridges are "multi-modal" bridges. The multi-modal design is the first of its kind for Oklahoma. The "TIGR" has a double-decker design that allows for vehicle traffic to run on the top deck and allows for future commuter rails and a pedestrian bridge connecting the Tulsa River Trails to use the bottom decks. The "HPPIY," keeping with the uniqueness of the "TIGR" bridge, echoes many of the same artistic and structural qualities. Its double-decker design allows for vehicle traffic to run on the top deck and features a pedestrian overlook on the bottom deck which connects to the Tulsa River Trials.
The projects included the removal of the existing I-244 westbound and eastbound bridges over the Arkansas River and the construction of the new double-decker bridge structures.
The projects are overall one of the most unique in Oklahoma. The multi-modal bridge design and its implementation of the exceptional artistic features made the projects one-of-a kind and something all Oklahomans can be proud of.