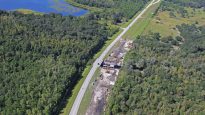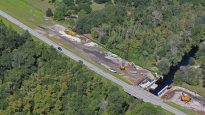 Poinciana Phase III Road Widening
Kissimmee, Florida
The Poinciana Phase III Road Widening project included the reconstruction and widening of the existing roadway and intersection improvements.
The reconstruction and widening takes the existing two-lane rural roadway section and transformed it into a four-lane divided facility for a total distance of 2.6 miles and includes the construction of a new southbound vehicle bridge and northbound pedestrian bridge. The four new lanes are twelve feet wide with paved shoulders, a bike lane, a five-foot sidewalk and a depressed median within a right-of-way width of 200 feet. The project utilizes a combination of both a closed drainage system and open ditches, consisting of curb and gutter, inlets, pipe, three retention ponds, and outfall structures and manholes. The southbound bridge and northbound pedestrian bridge carry vehicles and pedestrians over Shingle Creek. Other elements of the project include a two mile extension of 24-inch water main, signing, pavement marking, utility adjustments and relocations, maintenance of traffic and erosion control.
The intersection improvements are at the intersection of Poinciana Boulevard and Old Tampa Road and cover 0.23 miles. They are comprised of widening and constructing turn lanes, the construction of mast arm signalization, and reconstruction of an existing railroad crossing.