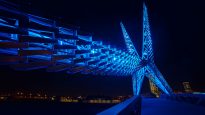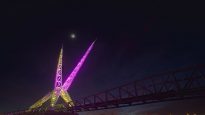 SkyDance Pedestrian Bridge
Oklahoma City, Oklahoma
Perched over the new Interstate 40 (Crosstown Expressway) near Robinson Avenue on the South side of the downtown Oklahoma City area, the SkyDance Bridge represents a soaring monument and landmark to the vision of Oklahoma City. The bridge is centered in the heart of the Oklahoma City MAP 3 downtown park project, connecting pedestrians to the Oklahoma River. The SkyDance Pedestrian Bridge stretches 192 feet in the air above Interstate 40. Manhattan constructed the iconic structure. The steel sculpture design is intended to represent Oklahoma's state bird, the Scissor-tailed Flycatcher.
The SkyDance bridge construction involved two separate contracts. Manhattan contracted with the City of Oklahoma City for the SkyDance steel pedestrian bridge approaches and bird sculpture. Manhattan also constructed the substructure as a subcontractor to Duit Construction/TTK Construction under a contract with the Oklahoma Department of Transportation.
Site erection of the pedestrian bridge and bird sculpture were completed days ahead of schedule in mid-December 2011, with final construction of approaches and landscaping completed by April 23, 2012, when the SkyDance Bridge celebrated its opening and first foot traffic.
Pedestrian Bridge Structure
386-foot-by-20-foot pedestrian bridge (240-foot span and 146-foot span).
Steel truss assembly.
Glulam rail and deck.
800 cubic yards of concrete.
200,000 pounds of reinforcing steel.
1,000 lineal feet of drilled shafts.
2,500 lineal feet of steel piling.
"SkyDance" Structure
86-ton structural steel pipe bird structure.
412-ton steel pedestrian bridge.
192 feet from roadway elevation to tip of wing.
LED lighting.
19-tons stainless steel cladding (feathers).