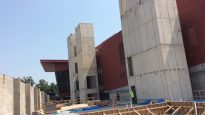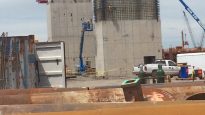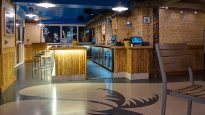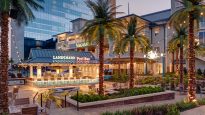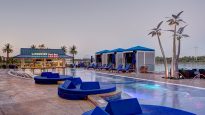 Muscogee Creek Nation | River Spirit Casino Phase II
Tulsa, Oklahoma
For their part of the 400,000-square-foot expansion and renovation of The River Spirit Casino Resort Phase II, Cantera Concrete Company placed in excess of 30 thousand cubic yards of concrete and nearly 2 million pounds of reinforcing steel.
The project included new retail, casino gaming area, restaurants, and a live entertainment venue for The Muscogee Creek Nation. The expansion brought Jimmy Buffet's Margaritaville Casino and Restaurant to Tulsa, as well as Paradise Cove, a large venue for major concerts, comedy performances, and professional fighting events.  This project also entailed renovation of the existing gaming floor, restaurants, and the 5 o'clock Somewhere Bar.
An inviting entrance to the resort was beautified by approximately 30,000 square feet of integrally colored concrete with multiple stamp textures and shake on color agents. Design selections for this Porte Cochere were based off of expertise provided by Cantera. The same was in store for the new pool with swim up bar. Planter walls and flatwork were integrally colored with scored and stained silhouettes of sharks and palm trees. The colored concrete pool deck was topped off with a rock salt finish, which provides a unique look and slip resistance for the safety of the patrons.
The site is located on the bank of the Arkansas River. Cantera Concrete installed nearly 30,000 linear feet of drilled piers in the sandy river bank with the use of vibrating temporary casing down to the deep underground rock layer.
Contracted work included:
400,000-square-foot, four-story structural steel with concrete slabs on metal decking.
Concrete Shear/Shaft and Basement Walls.
Deep and shallow concrete foundation.
Excavation.
Formwork.
Accessory product installation.
Concrete place and finish.
Machine drilling of piers.
Reinforcing installation.
Traffic lighting installation.
Spoil haul-off.
Concrete pumping.
Lane and parking striping
Termite pre-treatment.
Caulking.
Crane Hoisting.