From beautiful buildings to decorative retaining walls, Cantera delivers the designer's aesthetic vision through the use of architectural concrete and related formwork systems. Cantera's experts work closely with the construction team and designers to ensure the best results.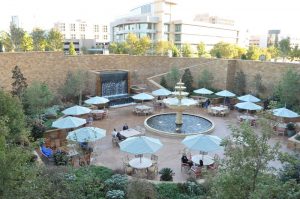 The University of Oklahoma Stephenson Cancer Center in Oklahoma City pictured above used beautiful decorative concrete for the Healing Garden area.
Three Forks Harbor River Center project in Muskogee, Oklahoma is a prime example of the beauty of architectural concrete. Pictured below, this project featured rough-cedar planking design on the exterior of the structure's retaining walls, emulating the planking you would see on a river dock. It is durable, appropriate and visually appealing.