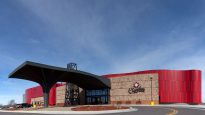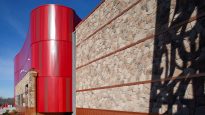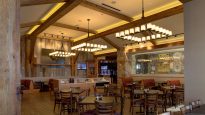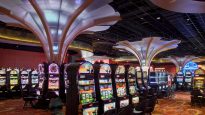 Cherokee Nation Entertainment Ramona Casino
The 32,000-square-foot Cherokee Nation Entertainment Ramona Casino is a multi-functional venue including a gaming capacity of approximately 600, a steakhouse, full service kitchen, bar, concert/entertainment venue and back of house offices for casino operations. Emphasis is placed on flexibility and transformability of the space in order to respond to varying clientele at different times of the day and week. The interior lighting and theming transform from the calm of the daytime gamers to the high energy style of the weekend entertainment seekers.
The western themed steakhouse restaurant offers a quiet sit down experience comfortable for a family or non-gamer in addition to providing a break from the activity of the gaming floor. The steakhouse design responds to the applicable historical time through use of wood and masonry. The full service kitchen area includes food preparation, scullery and cooler/freezer areas all under one roof with restaurant grade equipment.
The gaming floor design includes 3 steel and acrylic trees with LED light features as a part of the gaming floor theme. The gaming floor includes table games and electronic games and has a raised floor area for all under floor wiring.
The concert/entertainment and bar area includes an elevated stage with a transformable seating area and dance floor and the bar incorporates the LED lite theme as used on the gaming floor.
The exterior includes a large parking area with RV parking, new central plant, storage building, and a segmental decorative retaining wall.
A major design feature includes a 45-foot oil derrick at the entrance that displays Cherokee tribal art.
The steakhouse, concert/entertainment venue and casino are all emphasized separately from the exterior to attract a broader audience than a casino alone might attract. The exterior works to attract travelers on the adjacent highway, as well as welcome pedestrians walking up to the door.