A Culture of Safety
Safety is where our family culture impacts our business the most. We strive to maintain the safest job sites in the industry by building safety awareness into every part of our business. Our Manhattan family and all tradespeople who work on our sites daily are part of our vision to have:
• A shared value for safety.
• A shared commitment to safety at all levels throughout the company.
• A belief that it is possible to eliminate all incidents and injuries.
• An environment of authentic care and concern for the workforce.
• An environment where individuals take direct responsibility for their safety and the safety of their co-workers.
• An environment where safety actions are driven by choice and not just from formal compliance of rules.
Manhattan participates in Safety Week, an annual awareness program designed to elevate safety mindfulness among all workers in the construction industry. Our Safety Week 2020 theme was "I am safety. Work safe. Live safe." Check out our recap video of Safety Week activities where we provided safety training to more than 3,850 workers and 245 trade partner companies.
About Our Safety Performance
2021 National Safety Excellence Pinnacle Award winner.
National 2020 STEP Platinum and 2019, 2018, 2017, 2016, 2015, 2014, 2013, 2012, and 2011 STEP Diamond Award winner. The Diamond award is the highest honor in the Associated Builders and Contractors Safety Training and Evaluation Process (STEP) awards program. STEP Diamond Achievers are 680% safety than the industry average according to the 2019 ABC Safety Performance Report.
2020 Oklahoma Safety Council Pinnacle Award Winner
2019 Associated Builders and Contractors National Safety Excellence Award (NSEA)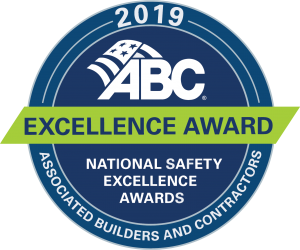 2017 Associated Builders and Contractors (ABC) Pinnacle Safety Award winner,  ABC's top safety honor.
2016 ABC National Safety Excellence Award winner, Excellence category.
2016, 2017, and 2018 Association of General Contractors Construction Safety Excellence Award winner.
Our Program – Above and Beyond
Going above and beyond to eliminate accidents is the aim every day for everyone on a Manhattan job site. Our safety program exceeds OSHA requirements raising the bar on the commitment to safety.
Excellence in safety is not a goal, it is an expectation. Safety training is an integrated part of Manhattan's new employee orientation program, and every employee receives on-site training prior to working on a project.
Manhattan provides OSHA 30-hour training in-house to our employees, addressing each sub-part of the OSHA standards. In our training, we examine the components of Manhattan's Safety Program and how they exceed OSHA standards.
Weekly "Toolbox Talks" occur on all project sites with all employees and cover safe work practices. We require that our subcontractors attend these weekly safety meetings and document that their employees attend as well.
Our project teams lead by example, putting safety first in their daily work activities. A site-specific project safety plan is developed for each project, taking into account the specific safety requirements and environment of the project. This plan outlines the responsibilities relating to safety for everyone on the project. We require our subcontractors to have safety plans in place as well.
Manhattan is fully committed to a drug-free work environment through both pre-employment screening and random drug testing for all employees.