Manhattan Construction, AGC of Oklahoma, and Junior Achievement collaborate to bring Northwest Classen High School students first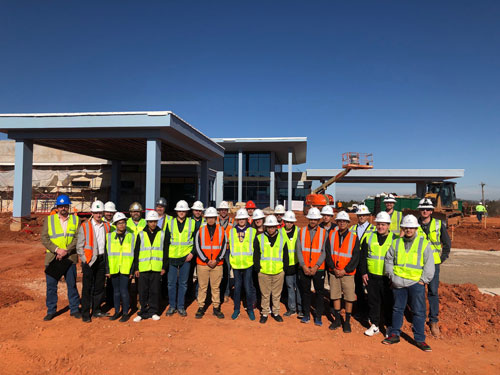 OKLAHOMA CITY – Oklahoma-based Manhattan Construction Company, the Associated General Contractors (AGC) of Oklahoma Work Force Development Committee, and Junior Achievement worked together to bring Northwest Classen High School students to their first-ever "Careers in Construction Day." The program is designed to offer students the unique opportunity to visit a professional work environment and to gain insights into how to find and keep a fulfilling career in construction.
"According to the 2018 Workforce Survey by AGC and Autodesk, 80% of construction firms surveyed are having a hard time filling some or all positions," said Doug Tapp, executive director of AGC of Oklahoma. "In Oklahoma, that number is 85%, so we are working on programs, like this one, to elevate awareness about construction related-careers with high school students."
On November 29, Manhattan Construction welcomed twelve students from Northwest Classen High School to their McBride Ambulatory Surgical Center job site in Oklahoma City to learn first-hand what it is like to work on a large commercial construction project.
Manhattan Construction Project Manager Lucy Lambert shared information with the students about the different career paths in the construction industry.
"My family was in construction, so when I went to college I already knew the paths and options available to me," said Lambert. "It is fun for me to see the students get excited about what I do for a living, and share all of these fantastic job opportunities in construction that they might have never thought of before."
While at the project site, students heard from a panel of representatives from Southwest Drywall, Swanda Brothers, Wattie Wolfe and Shawver and Sons, who are all subcontractors at the McBride project. They shared career advice for working in various trades, including mechanical, electrical, metal structure, equipment manufacturing, metal framing, drywall, insulation, and acoustical ceilings.
The day's events included a guided tour of the job site where students saw the trade work in action.
"Construction is a collaborative endeavor and so is getting the message out to the youth about our industry options," said Clay Cockrill, project director at Manhattan Construction. "Thanks to AGC, Junior Achievement and our subcontractors, these students got to see first-hand how complex, diverse and exciting jobs in construction can be. We hope they spread the word."
Link to 2018 AGC Workforce Report: https://www.agc.org/news/2018/08/29/eighty-percent-contractors-report-difficulty-finding-qualified-craft-workers-hire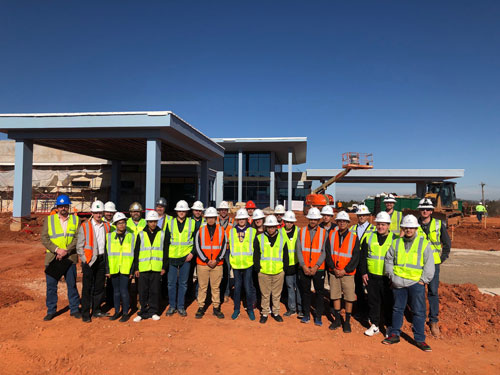 About Manhattan Construction Company:
Founded in 1896, Oklahoma-based Manhattan Construction Company is among the largest family-owned construction companies in the United States. The company provides preconstruction, construction management, program management, general building, and design-build services throughout the United States, Mexico, Central America and the Caribbean. Manhattan's award-winning portfolio of work includes sports, healthcare, government, education, laboratory, aviation, transportation, convention, casino and hospitality facilities. Manhattan is a 14-time Associated Builders and Contractors (ABC) Accredited Quality Contractor (AQC), an eight-time STEP Diamond Safety Award Winner, and a 2017 Pinnacle Safety Award winner − ABC's top national safety honor. www.manhattanconstruction.com
About AGC of Oklahoma:
The AGC of Oklahoma (AGCOK) is a statewide, full service, non-profit organization for construction professionals. AGCOK actively represents all types and disciplines of contractors and related affiliates including general contractors, specialty contractors, suppliers, service providers, education affiliates, and other industry related professional organizations. When you join the AGOK you are a part of a network that includes over 6,500 general contractors, over 9,000 subcontractors, and 10,000 service providers. www.agcok.com/