Manhattan Construction Company named to ABC's Top-performing U.S. Commercial and Industrial Construction Contractors List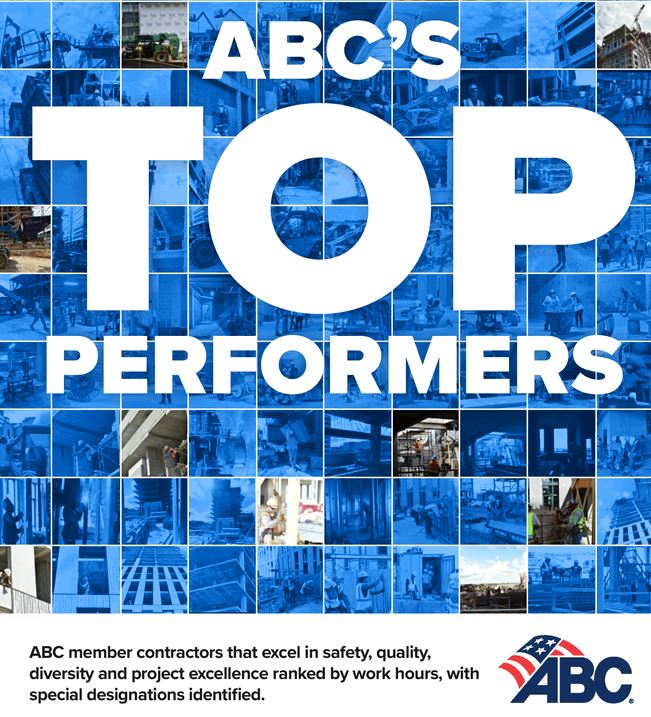 TULSA, OKLAHOMA – Manhattan Construction Company is ranked 37 on the 2019 Top Performers list released by the Associated Builders & Contractors (ABC). Published as a supplement to Construction Executive magazine, the list recognizes the Top 150 Performers among ABC member contractors for achievements in safety, quality, diversity and project excellence ranked by work hours, with special designations identified.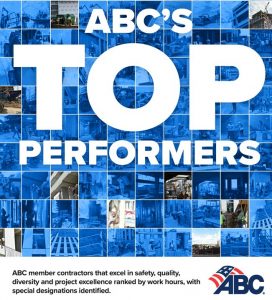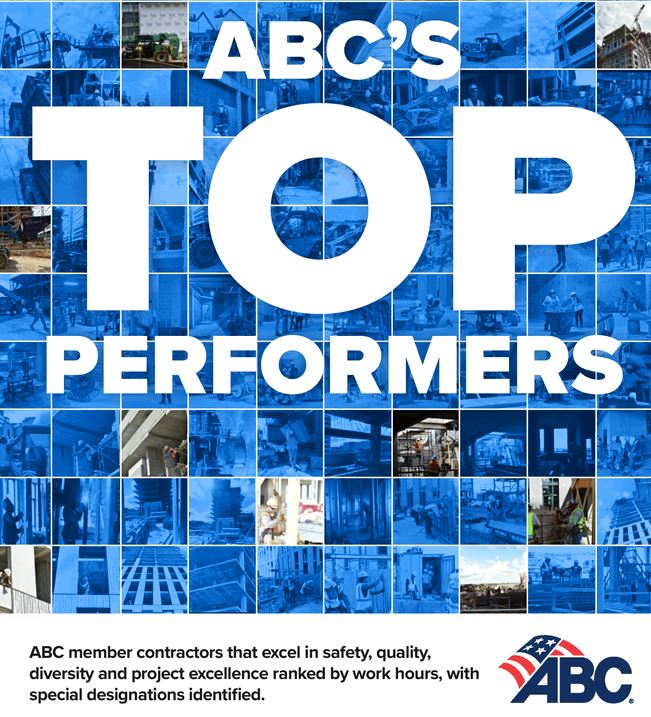 "ABC Top Performers are leading the way in the merit shop construction industry, where diverse participants are constantly striving to achieve the highest levels of personal and company performance in an environment of fair and open competition," said Michael Bellaman, president and chief executive officer of ABC. "These rankings will help the industry identify contractors like Manhattan Construction Company that have achieved world-class safety performance, demonstrated their commitment to their workers and their communities and earned recognition for project excellence and diversity."
To be eligible, Manhattan Construction Company has demonstrated world-class safety performance by implementing ABC's STEP safety management system, which makes the top-performing contractors up to 680% safer than the U.S. Bureau of Labor Statistics industry average, according to the ABC 2019 Safety Performance Report. Manhattan Construction Company is a nine-time recipient of the ABC STEP Diamond Safety Award – the highest honor in the ABC Safety Training and Evaluation Process (STEP) Awards program. Top Performing companies are ranked by size based on the number of hours worked in 2017, as reported in their 2018 STEP applications.
The Top Performers list recognizes contractors that have earned ABC national awards and designations. Manhattan Construction Company has earned the Accredited Quality Contractor (AQC) designation for 14 consecutive years, and is a winner of the 2016 and 2018 National Safety Excellence Award (NSEA). Manhattan is also the winner of the 2017 Pinnacle Award, ABC's top safety honor.
Access the 2019 Top Performers list at at abc.org/topperformers
About Manhattan Construction Company
Founded in 1896, Oklahoma-based Manhattan Construction Company is among the largest family-owned construction companies in the United States. The company provides pre-construction, construction management, program management, general building, and design-build services throughout the United States, Mexico, Central America, and the Caribbean. Manhattan's award-winning portfolio of work includes sports, healthcare, government, education, laboratory, aviation, transportation, convention, casino, and hospitality facilities. Manhattan is a 14-time Associated Builders and Contractors (ABC) Accredited Quality Contractor (AQC), an nine-time STEP Diamond Safety Award Winner, and a 2018 National Safety Excellence Award Winner, and a 2017 Pinnacle Safety Award winner − ABC's top national safety honor. www.manhattanconstruction.com