Manhattan Construction Company receives OSC 2020 Pinnacle Award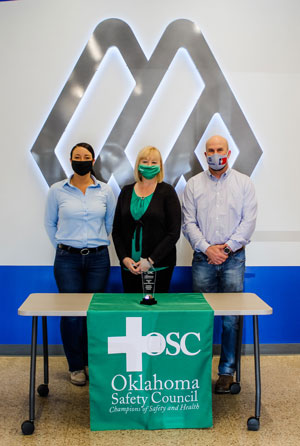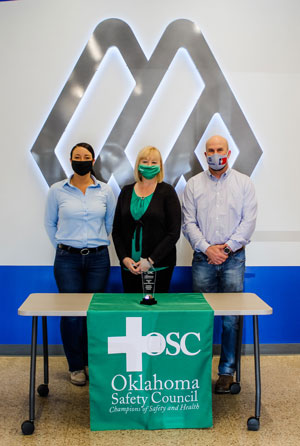 OKLAHOMA CITY – The Oklahoma Safety Council (OSC) has announced Oklahoma-based Manhattan Construction Company as its 2020 Pinnacle Safety Award winner.
"The distinguished Pinnacle Safety Award recognizes an Oklahoma Safety Council Member company that displays the highest levels of excellence and quality in their industry," said Betsey Kulakowski, executive director of the OSC. "Manhattan Construction is committed to safety and fostering a safety culture, which has resulted in above-and-beyond safety and health performance."
Manhattan Construction provides preconstruction, construction management, program management, general building, and design-build services, and has been shaping Oklahoma's landscape since 1896. The company is well-known for their work on projects such as the Oklahoma State Capitol Interior Restoration and First Americans Museum in Oklahoma City, the BOK Center and Ascension St. John Health System in Tulsa, and a wide range of projects for Oklahoma State University, University of Oklahoma and numerous healthcare systems.
"We are grateful to the Oklahoma Safety Council for recognizing our safety program with its top honor. Our Manhattan family of builders is committed to the well-being and health of our team members and trade partners. We are dedicated to ensuring our job sites are the safest in the industry," says John Reyhan, president of Manhattan Construction Company.
As a member of the Oklahoma Safety Council for 14 years, Manhattan Construction is a proven industry leader in safety with new and innovative safety initiatives, said Kulakowski.
In 2020, Manhattan Construction launched training companywide for a crisis management app called "Smart Safety." This smartphone-based notification system uses geo-fencing to issue emergency alerts and situation-specific instructions to workers on a job site. Manhattan's safety team also developed its "Safe 8" Jobsite Hazard Analysis Tool, which guides team members through tasks before they start work to identify potential hazards and how to avoid them.
Manhattan Construction was also swift in their response to the COVID-19 pandemic. Leadership in the organization immediately formed an action team to start addressing every aspect of potential impact on their employees and business. The team launched an internal communication portal, including self-care resources, employee assistance program (EAP) benefits, and mitigation and sanitation plans for job sites and offices.
Oklahoma Safety Council presented Manhattan Construction Company the Pinnacle Safety Award in a small ceremony on November 3rd, 2020.