Manhattan Construction Company wins top national safety award from Associated Builders and Contractors
TULSA, OKLAHOMA – Tulsa-based Manhattan Construction Company has been named the winner of the 2017 National Safety Pinnacle Award from Associated Builders and Contractors (ABC). Manhattan Construction Company received the award March 21 during the 28th annual Excellence in Construction® Awards at the ABC Convention 2018 in Long Beach, California.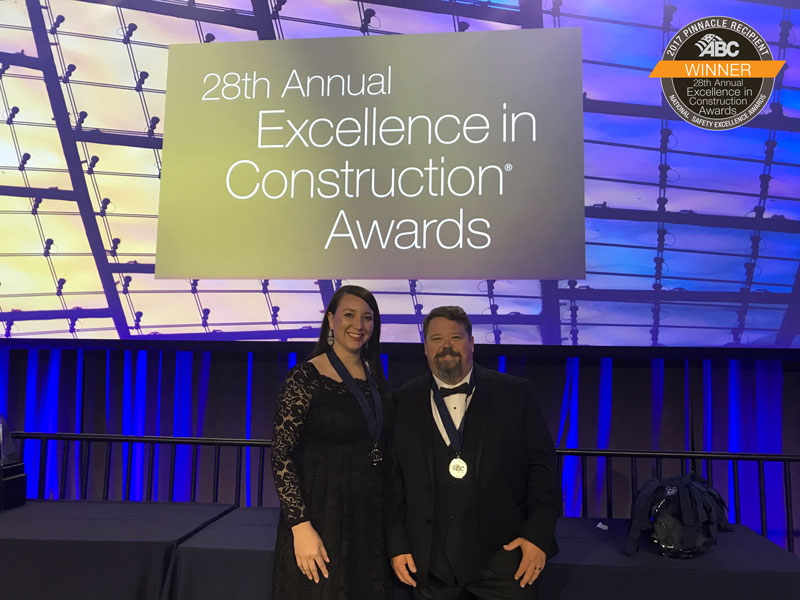 There are three levels of achievement for the National Safety Excellence Award (NSEA) competition: Excellence, Merit and the Pinnacle Award. While Excellence and Merit represent exceptional and outstanding safety programs, respectively, Pinnacle recipients can truly be considered world-class. The Pinnacle Award reflects exceptional long-term safety performance and processes; only previous year's recipients of the Excellence Award were eligible for consideration for the Pinnacle honor. Prior to winning the Pinnacle Award, Manhattan won the 2016 Excellence Award.
"Associated Builders and Contractors is thrilled to honor Manhattan Construction Company, whose world-class safety processes and safety culture has created an environment where every employee understands that the wellbeing of those around them is everyone's responsibility," said 2018 ABC National Chair George R. Nash Jr., director of preconstruction at Branch & Associates, Herndon, Va. "Manhattan's impressive safety record shows the clear difference that an uncompromising, top-down commitment to safety makes in a contractor's performance and we are proud to call them an ABC member."
National Safety Excellence Award winners were selected from ABC member firms that achieved Diamond, Platinum and Gold status in ABC's Safety Training Evaluation Process (STEP). Manhattan Construction Company is a seven-time winner of the STEP Diamond level, which is the STEP program's highest honor.
During the selection process, national safety winners were judged on self-evaluation scores, lost workday case rates, total recordable incident rates, leading indicator use, process and program innovations and video interviews conducted by members of ABC's National Environment, Health and Safety Committee.
"With a goal of zero incidents, Manhattan's Operation Zero safety awareness program fosters a caring connection among everyone who works on our jobsites," said John Reyhan, president of Manhattan Construction Company. "Since the program's launch in 2016, our Experience Modification Rate (EMR) has reached an all-time company best of 0.50, which is half the national average."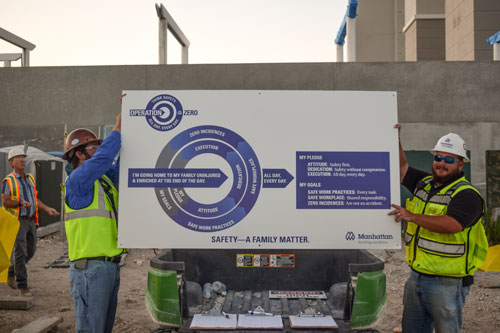 STEP is the standard for developing world-class safety programs in construction and is designed to help both large and small contractors evaluate every aspect of their corporate safety and health program and identify opportunities for improvement. According to ABC's latest Safety Performance Report, the best-performing ABC members STEP participants can reduce recordable incidents by up to 85 percent, making the best-performing companies 670 percent safer than the industry average.
"As a family-owned company with the fifth generation of the founding family, Larry Rooney, serving in leadership, we are dedicated to the health and safety of every team member," said Reyhan. "We are a family of builders who cares about making sure every worker makes it home safely to their family every day."
The National Safety Awards are presented in three major North American Industry Classification System (NAICS) code categories: NAICS 236 – Construction of Buildings; NAICS 237 – Heavy and Civil Engineering Construction; and NAICS 238 – Specialty Trade Contractors.
Founded in 1896, Manhattan Construction Company is among the nation's largest family-owned construction companies. Its services include construction management, general building, preconstruction, design-build and program management.
Manhattan Construction Company is a subsidiary of Naples, Florida-based Manhattan Construction Group, which is recognized by Engineering News-Record (ENR) as a top 50 contractor, and serves building, civil, pipeline and specialty construction segments in the U.S., Mexico, Central America and the Caribbean. The Group's operations include Manhattan Construction Company, Manhattan Road & Bridge Company, Manhattan Pipeline, LLC, Manhattan International Construction Company, Ltd, Cantera Concrete Company, Spectrum Contracting, Inc. and Safezone, LLC. Manhattan is ENR Texas & Louisiana's 2017 "Contractor of the Year," and in the last three years, its operations have received more than 40 industry honors for quality and safety. Learn more at www.manhattanconstructiongroup.com.
Associated Builders and Contractors (ABC) is a national construction industry trade association established in 1950 that represents more than 21,000 Amembers. Founded on the merit shop philosophy, ABC and its 70 chapters help members develop people, win work and deliver that work safely, ethically and profitably for the betterment of the communities in which ABC and its members work. Visit us at abc.org.