TEAMWORK magazine dedicated to all who were part of building Globe Life Field, the new home of the Texas Rangers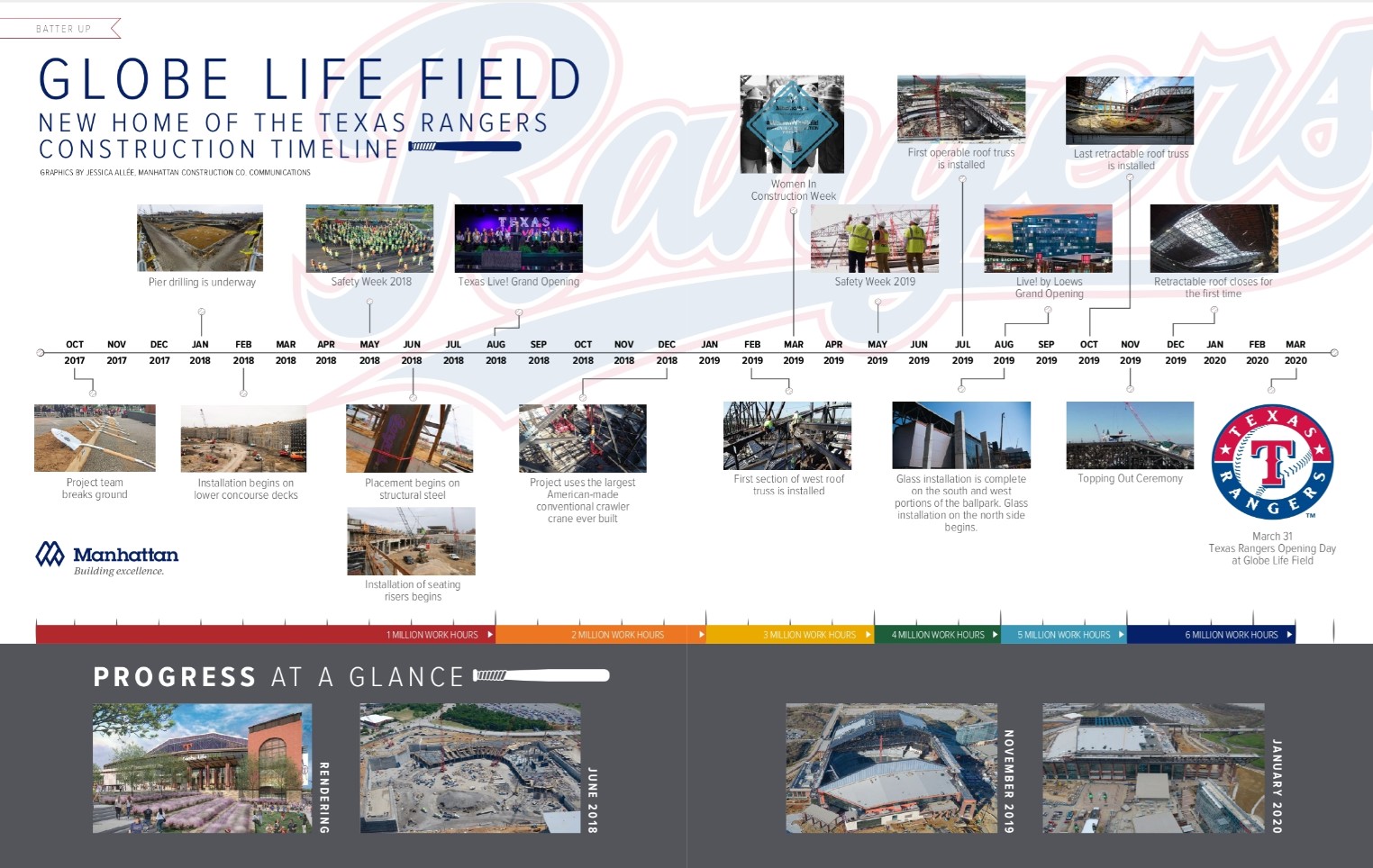 What an experience it has been for everyone at Manhattan Construction Company to build the new awe-inspiring home of the Texas Rangers – Globe Life Field!
With Texas Rangers holding the soft Opening of their new ballpark without fans today, we are thrilled to share the online version of TEAMWORK magazine. The stories in this publication provide a window into the behind-the-scenes feats of collaboration that show how important our partners were in building this tremendous structure. The magazine was originally scheduled to be published on Opening Day in March 2020, which was canceled due to COVID-19 public gathering concerns.
Manhattan is honored to be the construction manager for this new 1.8 million-square-foot retractable roof MLB ballpark, but we didn't build it alone. Building is a team sport, and we wish to recognize our trade partners and the more than 10,000 workers who put in more than 6-million work hours to build this extraordinary ballpark. It has been our privilege to work with some of the most skilled and dedicated craftspeople in the industry.
We extend our heartfelt thanks to Ray Davis and Neil Leibman, and the entire Texas Rangers organization, and to Mayor Jeff Williams, and the City of Arlington, for the opportunity to serve fans and the Arlington community. As a fifth-generation Rooney family-owned company, our Manhattan team was delighted to build The Rangers' original ballpark in Arlington and serve this community again 24 years later to build Globe Life Field.
Our experience with The Rangers team has been nothing short of exemplary. The Rangers' Rob Matwick, John Blake, Chuck Morgan, Mike Healy, and Jack Hill have been supportive team members, and we couldn't have accomplished what we did without their constant engagement for the past three years.
Thank you to the design professionals for their collaboration during construction. HKS, Inc., Walter P Moore, ME Engineers, WJHW, SWA, MMA, VAI, and all of the consultants played a significant role in the successful completion of Globe Life Field.
We sincerely appreciate ACARI Management Group, Inc., for their dedication and support with community outreach, which helped the project achieve its MWBE participation goal.
At Manhattan, we care deeply about the long-term success of our clients, our communities, the structures we build, and the people who build them. We dedicate this TEAMWORK publication in honor of all who were part of bringing this prestigious ballpark to life.
We are thrilled that the team gets to play in the new ballpark and look forward to seeing fans enjoy it someday soon too. Go Rangers!
With gratitude,
Larry Rooney, President
Manhattan Construction Group
John Reyhan, President
Manhattan Construction Company