Tulsa Vision Builders Receives National Excellence in Construction Award From Associated Builders and Contractors for Cox Business Convention Center Project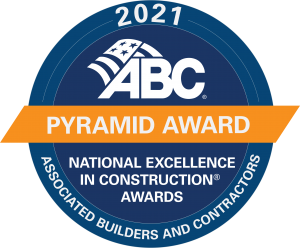 TULSA, OKLAHOMA—Tulsa Vision Builders, a joint venture including Manhattan Construction Company and Flintco, announced today that work on the Cox Business Convention Center Renovation in Tulsa, Oklahoma has earned a national Excellence in Construction® (EIC) Pyramid Award, presented during the ABC Convention 2021 in Grapevine, Texas, on March 10. The EIC awards program is the industry's leading competition that honors both general and specialty contractors for world-class, safe and innovative construction projects.
"The Cox Business Convention Center renovation represents the City of Tulsa's initiative to elevate downtown Tulsa and its amenities to the national stage and we were proud to serve as construction manager for this unique and complex project," said Jason Martin, Manhattan Construction Company operations manager for the Tulsa, Oklahoma office. "It was a pleasure working with the City of Tulsa, ASM Global and all involved on this challenging but ultimately satisfying renovation and expansion. I look forward to attending many events in the new grand hall."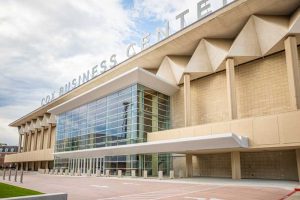 The Cox Business Convention Center Renovation project consisted of two major elements, a new three-story clear lobby east entrance connecting the existing venue with its downtown neighbors and conversion of the historic convention center area into 42,000-square-feet of adaptable ballroom/pre-function space, which is now Oklahoma's largest ballroom.
Manhattan Construction Company and Flintco, in a joint venture known as Tulsa Vision Builders, served as construction manager for the project, and MATRIX Architects Engineers Planners served as the architect.
"For more than 30 years, ABC has honored award-winning construction projects like the Cox Business Center Renovation because the work by the team at Tulsa Vision Builders exemplifies excellence in our industry," said 2021 ABC National Chair of the Board of Directors Steve Klessig, vice president of architecture and engineering, Keller Inc., Kaukauna, Wisconsin. "This world-class construction project is a vital part of our economic engine, built safely, on time and under budget, and it is an honor to congratulate Manhattan Construction Company for their commitment to setting the standard for excellence in construction."
The EIC award honors all construction team members, including the contractor, owner, architect and engineer. The winning projects, selected from entries across the nation, were judged on complexity, attractiveness, unique challenges overcome, completion time, workmanship, innovation, safety and cost.
This year's panel included representatives from Building Owners and Managers Association International, Smithsonian Facilities Construction Division, Construction Management Association of America, Engineering News-Record, Design-Build Institute of America and various construction-related firms nationwide.
PeopleReady Skilled Trades is the presenting sponsor of the Excellence in Construction® Awards.