U.S. Department of Labor and Manhattan Construction Company Sign Partnership To Enhance Safety and Health at Globe Life Field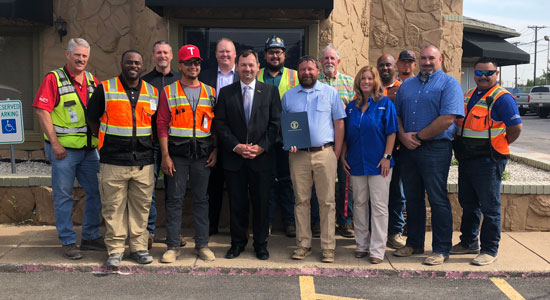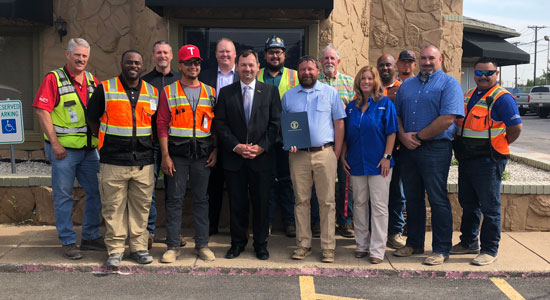 ARLINGTON, TX – On Thursday, July 26, Manhattan Construction Company, along with the U.S. Department of Labor's Occupational Safety and Health Administration (OSHA), signed a partnership to help protect approximately 1,000 workers during construction of Globe Life Field in Arlington, Texas. The 1.7 million-square-foot project will be the new home of the Texas Rangers, Major League Baseball organization.
The unique partnership will focus on reducing and preventing exposure to hazards in the construction industry, as well as promote open lines of communication between contractors and subcontractors to improve safety and health management systems and to provide for a comprehensive mentorship and training program that would benefit all contractors working on the job site. Through its Strategic Partnership Program, OSHA works with employers, employees, professional and trade associations, labor organizations, and other interested stakeholders to establish specific goals, strategies, and performance measures to improve worker safety and health.
"Putting proactive safety measures in place is crucial for highly-successful safety programs and achieving zero incidents," said Manhattan Construction Company Vice President of Operations Jim Cuddihee. "Our partnership with OSHA will help us achieve that goal by providing advanced evaluation and hazard prevention reviews to ensure the health and well-being of every worker on our site."
Tulsa-based Manhattan Construction Company is construction manager for the Globe Life Field project, which is a ground-up construction of a new baseball park, multi-purpose entertainment, and sports facility for the Texas Rangers Baseball Club and the City of Arlington. The new 40,000-seat, retractable-roof stadium is planned to be completed by the March 2020 opening day.
Globe Life Field is the fifth project in which Manhattan Construction Company has participated in a partnership with OSHA.