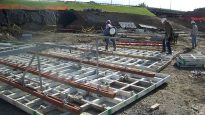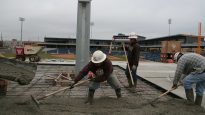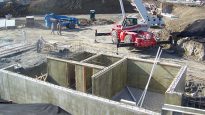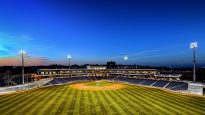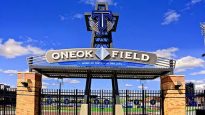 ONEOK Field
Home field of the Tulsa Drillers
Tulsa, Oklahoma
Cantera placed more than 18,000 cubic yards of concrete in a little over one year for the ONEOK Field project. The stadium is home of the Tulsa Drillers minor-league baseball team. The 7,833-seat stadium has a 360-degree concourse that provides fans a view from all sides of the field. The stadium's 26,000-square-foot basement houses two dugouts, two locker rooms, an umpire's locker room, a batting/pitching cage, and coaches' offices for home and visiting teams.
The stadium's foundation is a pier and grade beam system. It has 1,000 linear feet of piers and 5,500 linear feet of grade beams. The baseline walls are one foot thick and the batter's eye wall is two feet thick. The four-foot-tall outfield walls are perfect for outfielders to lean over and make important game-winning catches.
Cantera maintained an average of 35 concrete workers on the site daily.  This number would go as high as 50 for flatwork finishing workdays.