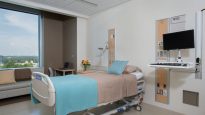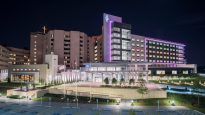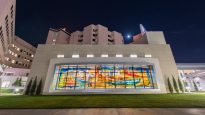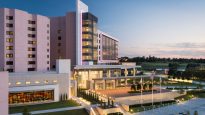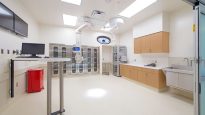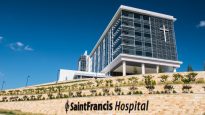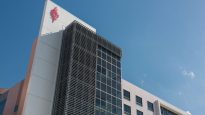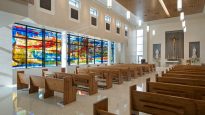 Saint Francis Hospital Trauma Emergency Center Renovation and Expansion
Tulsa, Oklahoma
The Saint Francis Hospital Trauma Emergency Center Renovation and Expansion project includes a multi-phase expansion and renovation of a new trauma emergency center and bed tower addition on the hospital's main campus. The eight-story facility has approximately 451,175 square feet of new construction, and 46,000 square feet of renovation space and accommodates a new emergency department, a 150-patient bed tower, a new campus chapel, and a new women's convent. It also provides a new and inviting front public entry and lobby to the existing hospital; replaces the hospital chapel with a spiritual worship place directly adjacent to the main entry. Additional project elements include multiple support spaces within Level B of the expansion as well as site work associated with a new entry drive and patient drop off along with minor surface parking rework. Garden spaces at grade with an integrated fountain design as well as on the rooftop of the first level podium. A heli-stop with dedicated trauma elevator access has been provided on the rooftop of the bed tower. Connection to both the existing hospital adjacent to the West Wing as well as linking to a Level below grade tunnel connecting the newly constructed southwest parking garage completed by Manhattan Construction. The total construction site encompasses approximately 7.5 acres.
This project is LEED® Silver certified. Green features include roofscaping, sunshades, construction waste management, regional materials, low emitting materials, lighting controls, etc.
Roof Garden
The project includes 4,800 square feet of roof garden.
The Saint Francis Hospital Trauma Emergency Center Renovation and Expansion is part of the green power program which encourages organizations to buy green power as a way to reduce the environmental impacts associated with purchased electricity use.
We will be doing enhanced commissioning with a third party agent which will help reduce operational costs and yield improvements in energy efficiency.
We will be using low emitting materials for adhesives, sealants, paints, coatings, and flooring systems.