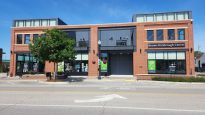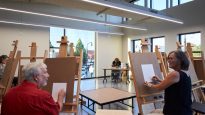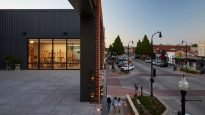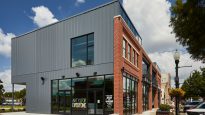 Brown-Kimbrough Center for the Creative Arts
Brown-Kimbrough Center
Broken Arrow, Oklahoma
Set in the heart of downtown Broken Arrow in the historic Rose District, the Brown-Kimbrough Center for the Creative Arts is a new two-story building that consists of 14,325 square feet of classrooms, offices, a gift shop, a woodworking shop, an art gallery as well as a 1,200-square-foot outdoor classroom on the second-floor roof deck.
The Rose District's once vibrant and bustling sidewalks had given way to sparse daytime traffic and a small collection of shops and businesses. The City of Broken Arrow, along with private investment, had the vision to revitalize the district and create a vibrant, walkable community filled with small retail, businesses, entertainment, restaurants, and people at all times of the day.
The Brown-Kimbrough Center is owned by the City of Broken Arrow and operated by the City's non-profit arts organization ARTSOK (the Regional Arts Alliance of Broken Arrow) and affiliate Arts@302. It serves as a hub for enhancing arts education for Broken Arrow Public Schools students and community members through both adult and children's classes for ceramics, watercolors, drawing, music, paper mâché, meditation, and more. They also offer summer kids camps, after-school programs, various exhibits, and host events. This was achieved through open classrooms that can be used for multiple art forms with several flexible spaces that can also be transformed into smaller areas as necessary.
This was the City of Broken Arrow's first Construction Manager at Risk project.