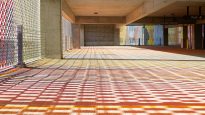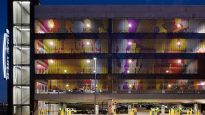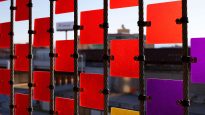 Convention Center Parking Garage
Oklahoma City, Oklahoma
People are known to move and invest in a city when there are activities pertaining to arts and culture. Along with making a city a great place to live, it provides leverage to the private sector to support economic growth. The Central Oklahoma Transportation and Parking Authority and Oklahoma City Economic Development Trust demonstrate their commitment to building a great community to live, play, work, and visit with the Convention Center Parking Garage project.
The new, award-winning Convention Center Parking Garage supports the Oklahoma City Convention Center and Omni Hotel patrons with a 413,360-square-foot, six-floor parking garage. The structure is cast-in-place concrete with an exterior made of precast concrete and a curtainwall system with brick veneer. The building stairways include a stainless-steel rod system to meet ADA requirements. In addition, the area provides 1,099 parking spaces in a beautiful atmosphere wrapped in a beautiful polycarbonate tile art piece surrounding three sides of the structure supported by a unique cable system.
About the art:
The art was commissioned by architectural glass artist Martin Donlin, a resident of Brighton, England. Martin, who creates glass artwork on large and small scales, was intrigued by this Oklahoma City project. The design is reminiscent of a "Frieze" that wraps around the building to encapsulate, celebrate and honor the spirit of Oklahoma citizens. Fifteen different colors make up the design. As the viewer moves around the facility, the 40-foot-high figures appear and disappear in a parade of color. The artwork becomes an abstract field of colored walls from inside the garage facility. The artist intended to express the multitude of cultures and the people that unified to create what Oklahoma City is today.
Challenges:
Manhattan constructed the Convention Center Parking Garage simultaneously with three other projects adjacent to the site, which caused some challenges. Still, we overcame them by coordinating continuously with adjacent projects to meet the necessary deadlines.