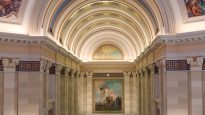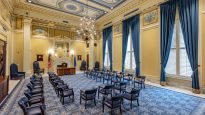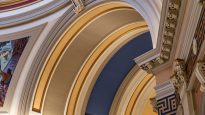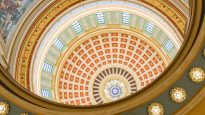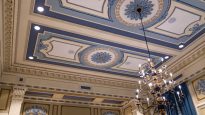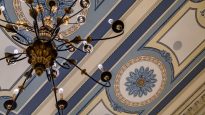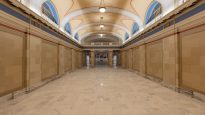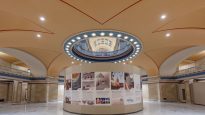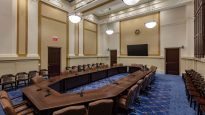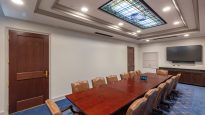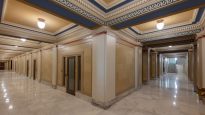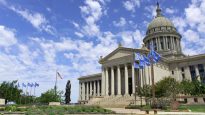 Oklahoma State Capitol Restoration – Interior Rehabilitation
Oklahoma Capitol Restoration
Oklahoma City, Oklahoma
The award-winning Oklahoma State Capitol Restoration – Interior Rehabilitation project was led by Manhattan Construction in partnership with Frankfurt Short Bruza Architects-Engineers-Planners, Rosin Preservation, and Stephen Kelley Preservation. Their combined efforts resulted in an efficient and functional renovation of the historic structure. Manhattan Construction developed a single-move strategy to relocate occupants only once, avoiding multiple moves and costly relocation expenses.
Scope of the Project
The Oklahoma State Capitol Restoration project's scope involved repairing and replacing the Capitol's backbone infrastructure, including electrical, mechanical, plumbing, and HVAC systems. The team actively complied with legislative mandates and closely collaborated with the State Capitol Repair Expenditure Oversight Committee to ensure the correct execution of all repairs and replacements. In addition, the basement required particular focus, as it housed vital utilities and served as the primary distribution system from the core of the building up to the sixth floor.
Manhattan Construction and the design and historic preservation team also made history by adding climate control in the rotunda and public spaces for the first time. This addition was crucial in protecting the building's priceless collection of artworks and ensuring the comfort of visitors and employees.
Safety and Security
Moreover, in line with the oversight committee's emphasis on enhancing public access and security, the Oklahoma State Capitol Restoration team constructed a new visitor entrance at the southeast corner of the building. The new entry addressed public accessibility, ADA access, security, and climate controls, making it easier for visitors to access the building and reducing the distance to public parking.
Furthermore, new fire alarms and sprinkler systems were added throughout the building and stairs on the east and west end to enhance emergency access and egress. Then the team upgraded public restrooms to comply with the Americans with Disabilities Act. Additionally, the expansion of three of the four elevator shafts allows for more efficient movement.
Modernization of a Landmark
The Oklahoma State Capitol Restoration project incorporated Light-Emitting Diode (LED) lighting, lighting control systems, and occupancy sensors into a modern controls platform to maximize energy efficiency and occupant comfort. The basement underwent a complete gutting to replace and repair the neglected backbone Mechanical/Electrical/Plumbing (MEP) systems. Finally, the team converted the space into a new visitor level, with an enlarged restroom area, a visitor center, an information kiosk, meeting rooms, tenant spaces with public interaction, and an expanded food services space.