Raylena Browning shares construction career advice: Find a mentor. Dream big. Step up.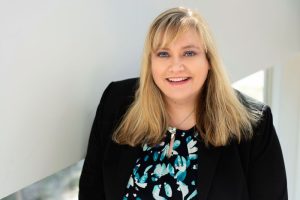 From spearheading preconstruction initiatives to leading Manhattan's "BuildHER" women's group to serving as Adjunct Professor at the University of Houston, Raylena Browning doesn't let the dust settle before stepping up to her next leadership challenge. As director of preconstruction at Manhattan Construction Company, she proves that leading and learning go hand in hand—and the company's clients, design, and trade partners benefit from it. Based in Houston, she has worked on projects in nearly every market sector and holds the Associate DBIA® and LEED® Accredited Professional credentials. It's a potent combo of expertise that gives project teams in the field a leg up, ultimately benefitting clients with cost and schedule certainty. With 21 years in the industry, she shares what drives her and career advice for young professionals in the construction industry.
What attracted you to a career in construction?
My grandfather was a strong influence on my decision to go into construction. He was a professional carpenter. On weekends, I would watch him work on carpentry projects. He instilled in me the sense of satisfaction you can get by building something with your own hands. He told me I could do anything I could put my mind to.
Why was earning the Associate DBIA® credential important to you?
I enjoy working on Design-Build (DB) projects. I'm a continual learner. I sought out the Associate DBIA® credential to expand my knowledge base so I could bring more ideas to the table. The DB contracting method gives our clients a single point of responsibility for the construction and design of their projects. Under DB, there is a tighter collaboration between the design and construction team. This gives us more opportunities to develop creative design options and value-added solutions for our clients. It's exciting to bring those ideas to clients.
What do you enjoy most about working in the construction industry?
I love that in construction, things are ever-growing, changing, and adapting. There is always so much to learn, and it is never dull. Being a part of the construction of buildings for the communities in which we work and live is a fantastic benefit of being a part of the A/E/C industry.
What drives your commitment to educating and mentoring others in the construction industry?
I was blessed throughout my career to have amazing mentors who helped instill confidence and encouraged me to dream big. I have the responsibility to give back through mentorship every chance I get. It's important to me to contribute to and enhance our industry to make it even better than when I started. We owe it to future generations to help grow and support our future industry leaders.
What advice would you give to young professionals who are starting out in the construction industry?
Soak up as much as you can. Dream big! Always be willing to volunteer and step up for opportunities that will push you outside your comfort zone. Most importantly, seek out and listen to great mentors. Never let anyone deter you from believing that you can accomplish all of your aspirations.
---
Raylena holds a Construction Management degree from the University of Houston and is a 2020 Luna Business Advocate of the Year Nominee.
Examples from Raylena's project work: